Hi Everyone! It's been awhile since we've participated in blog tours (and I have missed it soo much) and today will be the start to our first blog tour for 2016! YAY! We have here on our blog today Mary Weber, author of The Storm Siren Trilogy, listed her music choice for Siren's Song characters, which has been released last March 1st. Check out below playlist and you might discover your new fave song today! Enjoy!=)
Publisher: Thomas Nelson / HarperCollins
Release Date: March 1st 2016
Genre: Young Adult, Fantasy, Magic, Fiction, Paranormal
Nym and Draewulf prepare to face off in a battle destined to destroy more lives than it saves.
With the loss of Tulla still fresh in mind, Rasha's fate unknown, and Lord Myles taken over by the dark ability, Nym and the few Bron soldiers rush to warn Cashlin's queen. Only to discover it may already be too late for the monarch and her eerie kingdom. As the Luminescents are sifting through Nym's past memories and the queen is reading into her future, Nym is given a choice of how to defeat Draewulf, but the cost may be more than she can bear. And even then there are no guarantees.
With that reality burrowing into her bones—along with the guilt of the lives she will sacrifice—Nym returns to her homeland of Faelen to raise an army of peasants through promises of freedom. But when the few friends she has left, along with the world and citizens she loves, are staring down the face of a monster and his undead army, will Nym summon every element her blood is capable of controlling . . . or surrender to a different strength—one of sacrifice?
Because in the end, death may be more merciful for them all.
Can we just take a moment to admire this image.
I mean A for effort. I SO LOVE IT :*
Mary Weber: "Hi there!! Thanks for having me, and thanks for the music question!!!!
I adore playlists – so making them for the characters was all kinds of fun. <3
With that in mind, here are my picks and reasons behind them!"
For Nym – I'd go with "Superhuman" (Culture Code Remix) by Juventa feat Kelly Sweet. Everyone has these expectations on Nymia to save them, except as much as she tries she mainly just sees her own vulnerability and fear – not realizing it's that very vulnerability that people trust and follow. It's her vulnerability that makes her strong.)
For Eogan – definitely "It's Thunder and It's Lightning" by We Were Promised Jetpacks (the album version vs the live version ;0))

Eogan is so in love with Nym and it kills him to see her hurt. So here he is torn within himself as to how best to do what's right. Thus, his world is very much like thunder and lightning, as is their relationship.

For Draewulf – my pick is "So Happy Together" by Filter.

Filter's version of this song so perfectly captures Draewulf's creepy, stalkerish obsession with needing Nym in order to ultimately take over the world. I love it.

For King Sedric – I like "The Royal We" by Silversun Pickups.

He's this royal teenage king who's half-looking over his shoulder and half about to unleash the boiling, trod-down, fear-that's-been-holding-them-down-too-long fury of his nation upon the approaching darkness.

For Kel – "Over the Rainbow" by Israel Kamakawiwo'ole.

Oh Kel, my heart! Despite what this small boy's lived through, his innocent soul still believes in beauty, hope, and a future. Which is why we believe in him. <3

For Isobel – definitely "I'm So Sick" by Flyleaf.

As Draewulf's daughter, Isobel's been "infected" by those who raised her. She's only known control and blind trust to a self-serving father. Hence Nym's ability for compassion toward Isobel – because she recognizes the rage and disgust as a cover for insecurity and emotional abuse.

For Lord Myles – I'll have to go with

"You Will Never Know" (Miguel Campbell & Matt Hughes Remix) by Imany.

I don't think anyone truly knows what Lord Myles's internal demons are until they begin to erupt and show a different side of him – a broken side shaped by hunger for acceptance and love. Even if they're protected behind a sometimes unpalatable personality.

For Princess Rasha – ooh "Silence" (DJ Tiesto's In Search of Sunrise Remix) by Delerium feat Sarah McLachlan.

Princess Rasha was raised in near-silence, and it's how I'd describe her soul – quiet, calming, assured. And yet…there is a rage within her that when unleashed might enable others to find freedom.

For Allen the Dwarf – "Magic" by Coldplay!

Omg I love that fact that no matter what danger and death await, Allen's lighthearted soul will make you believe there is faith and hope and laughter.
And for a little extra… if the Storm Siren Trilogy had theme songs, they would be:
STORM SIREN
– "Demons" by Imagine Dragons
SIREN'S FURY
– "Dark Horse" by Katy Perry
SIREN'S SONG
– "Tonight" by Smashing Pumpkins
Thank you so much Mary Weber for such great playlist! I am sure that with this, a lot of people will be intrigued to these characters based on your pick of music for them, because I am! :))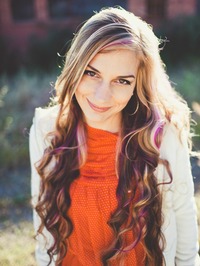 Mary Weber is a ridiculously uncoordinated girl plotting to take over make-believe worlds through books, handstands, and imaginary throwing knives. In her spare time, she feeds unicorns, sings 80's hairband songs to her three muggle children, and ogles her husband who looks strikingly like Wolverine. They live in California, which is perfect for stalking L.A. bands, Joss Whedon, and the ocean. Her debut YA fantasy novel,
STORM SIREN
and
SIREN'S FURY
are available now in bookstores and online, and SIREN'S SONG will be out March 2016 from TN HarperCollins.