Hi everyone! Another week is about to end and Christmas is just around the corner, with that we wanted to give you one of our Q&A with one of the most anticipated debut author this 2014. I know, I know it's been months since the book has released and a lot has already read it--I envy you all people--but for those of you who want to know what Snow Like Ashes is all about and its characters, read our exclusive interview with Sara and a short This or That below too. Have fun!
How did the idea of writing
Snow Like Ashes
come about? Did something/someone influence you to write about witches?
I honestly have no idea where SNOW LIKE ASHES came from. I started writing it when I was a wee preteen, and it's been so long, all the details of its origins have been lost in my eternally worsening memory. I do know that I always loved winter and hated that it got pegged as the "bad guy" whenever it was portrayed in books/shows, so that could have been part of SLA's beginning!
Could you describe the mundane details of writing: How many hours a day to you devote to writing? Do you write a draft on paper or at a keyboard (typewriter or computer)?
I spend about four hours every morning either drafting or editing, then I break for lunch, then I come back and either do more writing/editing (depending on how productive I was that morning, ha) or get caught up on social media goodness. I do all of my drafting on my laptop, and I mix notes between (totally illegible) handwritten and online. Excel spreadsheets are GLORIOUS.
Can you tell us about your protagonist, Meira, and her best friend the future king, Mather?
Meira is a sixteen year old soldier, one of eight refugees who escaped her kingdom's fall. She wants more than anything to help save her kingdom, but she gets forced into certain roles by the refugees' leader, Sir -- which is good, because he knows what their kingdom needs, but it's also bad from Meira's side, because she wants to feel some connection to the home she doesn't even remember (sort of survivor's guilt).
Mather is sixteen as well (they were both infants when Winter fell) and suffers from his own form of guilt. Every kingdom in SLA has a magic item, a conduit, that can only be used by that kingdom's given gender. For instance, Winter's conduit can only be used by the oldest living female heir. Mather is Winter's only heir and he, obviously, is not female, which means he can't do very much for Winter, aside from someday having a female heir. This restriction haunts him, but it also fuels him to do everything he can for Winter despite his limitations.
Meira and Mather's shared upbringing and similar weaknesses really unite them -- they both understand one another's pain in ways the other refugees don't. It's an interesting relationship, and one I hope readers fall in love with as much as I have!
How did you begin writing? Did you intend to become an author, or do you have a specific reason or reasons for writing each book?
I began writing as a child -- one of my earliest memories is of making (really awful) hand-drawn pictures books. I always knew this was what I wanted to do -- be an author -- and I am grateful every day that it happened. It sounds cliche, but dreams totally come true! You know, after years of hard work and dedication ;)
What makes Snow Like Ashes different from other books in the Fantasy genre?
I'd have to say SLA's niche is in its Season Kingdoms -- each kingdom embodies a certain season and that season affects every part of that kingdom's culture, and getting to write this part of the world was so much fun!
Because this is your debut novel, we're very curious; how did you celebrate your first book deal?
Tears. Lots and lots of ugly, sobbing tears.
THIS or THAT
Summer or Winter?
Vampires or Zombies?
Zombies! I actually hid little zombie finger puppets in the table decorations at my wedding.
Chocolates or Flowers?
Ehh...neither? I'm allergic to cocoa/milk and most types of flowers. How about vegan cupcakes?
Abs or Chest? Oh god. Arms, actually -- there's something about really lean, muscular arms that's just debilitating.
Skirts or Shorts? Shorts! I've never been able to find a skirt I like.
Hardcover or Paperback? For prettiness: hardcover. For affordability (I am poor): paperback.
The Hunger Games or Divergent? I...haven't read either. *ducks thrown objects*
Contemporary or Paranormal? Hm. Going off the grid here again to say fantasy, because obviously.
Bad boys or Good boys? Good boys. Bad boys are overrated.
Young adult or New adult? Young adult! Though I am liking some of the freedom New Adult gives.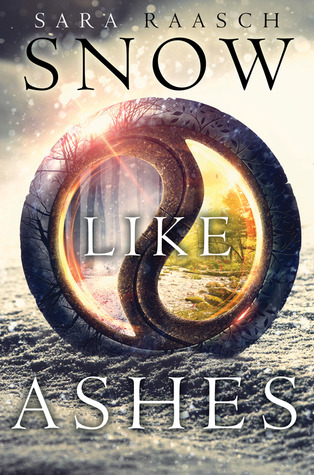 Snow Like Ashes
(
Snow Like Ashes#1)
by Sara Raasch
Hardcover:
422 pages
Publisher:
Balzer+Bray
Release Date: October 14th 2014
Blurb:
A heartbroken girl. A fierce warrior. A hero in the making.

Sixteen years ago the Kingdom of Winter was conquered and its citizens enslaved, leaving them without magic or a monarch. Now, the Winterians' only hope for freedom is the eight survivors who managed to escape, and who have been waiting for the opportunity to steal back Winter's magic and rebuild the kingdom ever since.

Orphaned as an infant during Winter's defeat, Meira has lived her whole life as a refugee, raised by the Winterians' general, Sir. Training to be a warrior—and desperately in love with her best friend, and future king, Mather — she would do anything to help her kingdom rise to power again.

So when scouts discover the location of the ancient locket that can restore Winter's magic, Meira decides to go after it herself. Finally, she's scaling towers, fighting enemy soldiers, and serving her kingdom just as she's always dreamed she would. But the mission doesn't go as planned, and Meira soon finds herself thrust into a world of evil magic and dangerous politics – and ultimately comes to realize that her destiny is not, never has been, her own.
You can purchase
Snow Like Ashes
at the following Retailers:
Sara Raasch has known she was destined for bookish things since the age of five, when her friends had a lemonade stand and she tagged along to sell her hand-drawn picture books too. Not much has changed since then — her friends still cock concerned eyebrows when she attempts to draw things and her enthusiasm for the written word still drives her to extreme measures. Her debut YA fantasy, SNOW LIKE ASHES, the first in a trilogy, comes out October 14, 2014 from Balzer + Bray. It does not feature her hand-drawn pictures.






So that's it. What do you think of the interview? Have you read the book?
We love to hear from you! Tell us in the comments below *wink*
P.S: Our Signed Legend giveaway has just ended, we'll be picking the winner this Wednesday so stay tuned! :)