Today we're very excited to have Michelle Krys on the blog to answer questions about herself and her debut novel, Hexed, which came out on June 10th. Read on to learn what inspired Michelle to write Hexed, how she celebrated her first book deal, and more!
Dea: First of all, we would like to congratulate you on the release of your debut novel, Hexed! The cover screams "mysterious" but I have to admit it was the tagline and blurb that intrigued me the most; it sounds like a fun and action-packed read full of magic and adventure. How did the idea of writing Hexed come about? Did something/someone influence you to write about witches?
I got the idea for Hexed from my sister, who is also a writer. One day she told me about an adult historical novel she wanted to write, which she'd planned to call The Witch Hunter's Bible. I loved the title, and it immediately gave me all of these ideas for a YA novel about a missing witchcraft book. When my sister later decided to ditch the adult historical and write another book instead, I asked her if I could use the title for the novel I'd been planning. She agreed, and I got to work writing Hexed. (Obviously the title changed. Funnily enough, the one that had inspired the book wasn't the best fit for the finished product. It still holds a place in my heart though!)
Mary Ann: How did you come up with the title "Hexed"?
Hexed is actually something my editor, Wendy Loggia, suggested. We circled other ideas, but this one kept coming back, so we went with it.
Riz: Can you tell us about your protagonist, Indie, and the very intriguing and sexy stranger, Bishop?
Indie's a popular, snarky cheerleader with a football star boyfriend who belongs to a social circle that rules her high school. Her mom is a bit quirky—something that her best friend Bianca doesn't hesitate to tease her about—but overall, it's pretty smooth sailing for Indie. But all of that changes when Bishop comes into her life.
What can I say about Bishop? He's snarky, sexy, has a penchant for leather, has plenty of tattoos, and gets on Indie's last nerve. Until he doesn't anymore.
Mary Ann: Is there anything particularly challenging while writing the book?
Without giving too much away, there are a few chapters in the book where Indie has to deal with grief and loss, and it was a challenge to write those scenes without it feeling like it wasn't the same lighthearted romp anymore.
Riz: We never pass up an opportunity to read a good paranormal story, but what makes Hexed different from other books in the Paranormal/Fantasy genre?
Hexed doesn't take itself too seriously. It's fun and kind of campy and I'm told it's funny.
Mary Ann: Did you learn anything while writing your book and what was it?
Every book teaches me something new. What I learned with Hexed is that a character can be as unlikeable as you want, but they need to be relatable. The reader needs to have some reason to want to root for a character or see some growth from them to really connect.
Dea: Because this is your debut novel, I'm very curious; how did you celebrate your first book deal?
I hadn't really thought about celebrating the book deal, but my family was having none of that. I was in my pajamas cleaning dog poop in my backyard when they all showed up for a surprise party, wherein they gifted me with a laptop. It was great! (A shame about the pajamas though).
Riz: Books into movies/TV Series has been a hype lately, have you thought of who would be on your dream cast? Are there any specific people you've based your characters from?
I have thought about it! I mean, who hasn't dreamt about their book being made into a movie?
He's not an actor per se (he had a recurring role on the reality series Audrina—don't judge) but Kyle Loza would be a great Bishop, and actually, he's who inspired the character.
And I don't know if she's funny, which is a must, but Gabriella Wilde looks just like the Indie I see in my head.
Dea: Using my stalking abilities, I learned that you have an upcoming book (besides Hexed #2) to be published in 2016 entitled Dead Girls Society. Can you share a little bit about it? Perhaps describe it in a sentence?
It's about a teenager who escapes her overbearing, helicopter parents by joining a high-stakes dare club, only she discovers more than just thrills: girls are going missing, and she could be next. I would say it's "The Skulls meets Pretty Little Liars."
5 totally random things about yourself:
• I have an identical twin sister.
• I'm a huge celebrity gossip junkie.
• I got married in Africa. Tanzania, to be more specific.
• I also work as a nurse in a neonatal intensive care unit
Thank you so much for visiting Teen Readers' Diary, Michelle! It was a pleasure getting to know more about you and Hexed!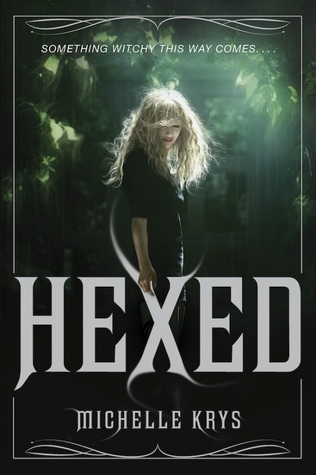 Paperback:
384 pages
Publisher:
Delacorte Press
Release Date: June 1oth 2014
Blurb:
It's Bring it On meets The Craft in this spellbinding witchy series debut.
If high school is all about social status, Indigo Blackwood has it made. Sure, her quirky mom owns an occult shop, and a nerd just won't stop trying to be her friend, but Indie is a popular cheerleader with a football-star boyfriend and a social circle powerful enough to ruin everyone at school. Who wouldn't want to be her?
Then a guy dies right before her eyes. And the dusty old family Bible her mom is freakishly possessive of is stolen. But it's when a frustratingly sexy stranger named Bishop enters Indie's world that she learns her destiny involves a lot more than pom-poms and parties. If she doesn't get the Bible back, every witch on the planet will die. And that's seriously bad news for Indie, because according to Bishop, she's a witch too.
Suddenly forced into a centuries-old war between witches and sorcerers, Indie's about to uncover the many dark truths about her life—and a future unlike any she ever imagined on top of the cheer pyramid.
Michelle Krys lives with her husband and son in Northwestern Ontario, Canada. She works part-time as a NICU nurse and spends her free time writing books for teens. Michelle is probably not a witch, though she did belong to a witchcraft club in the fifth grade and "levitated" people in her bedroom, so that may be up for debate. Hexed is her first novel. Visit her at michellekrys.com or follow @MichelleKrys on Twitter.