Hi lovelies! T
oday Joy N. Hensley is visiting the blog to talk about the setting of her fabulous debut novel!
Read on to know about the preparations and research that went into creating the world of Rites of Passage below.

Creating the setting for Rites of Passage was a labor of love, and in saying that, there wasn't much labor at all. I'm not sure many people know this, but once upon a time, I went to a military school on a dare (Norwich University in Vermont). I lived in the barracks, I climbed up the mountains, and I swam through the rivers. The key, though, was taking what I was familiar with in Vermont and making it work for Denmark Military School in Virginia.

I used campus maps from Norwich University and Virginia Military Institute to design the DMA. I took what I needed of both and put them where I needed them to be for the DMA to be as accurate as possible. I also included the tunnels, which may or may not have existed at Norwich University. I think with any old institution like this, even created ones, there are rumors and mysteries that help the place keep a feel of power about it. The tunnels I made for the DMA were just maintenance tunnels in the original plans of General Denmark, but over time they became a great meeting place for a group in the book, known as the Society.

The armory, the chapel, and the library were also very real in my mind and very much based on those same buildings at the military school I went to. I especially remember the chapel being my sanctuary, a very real place I could escape to when I needed a break from all the yelling. In the chapel, you see, no one had rank. So even if upperclassmen were in there, they weren't allowed to yell at us lowly freshmen in there. We could eat, play guitar, chill, and even sleep on the pews, which I only felt slightly guilty about.

A lot of scenes take place in the barracks themselves, and with this part of the setting, I made sure it was as much like a "normal" dorm room as possible. These kids are still in high school, even though it's a boarding school. It couldn't be a big house, though—not for the DMA—because the Worms still have things they must accomplish. Living on the top floor and having to run up and down stairs is a very real event in military schools. Cadets have to "earn" their place on the first floor—and that's reserved for seniors. The fire doors that close at the end of the halls make things private enough that, if needed, bad things can happen—smoke shows (though I'm not sure if these were done with or without adult knowledge and consent), company time, motivational training. All of these things happened at my school and were very important to the company building aspect of military school.

I did take as much care as I could to making sure it was as "real" as possible with regards to my town setting of Lexington, Virginia. The runs they go on were marked out on real maps, thanks to my author-friend, Jodi Meadows, so the lengths of the runs were probably a bit longer than reality for a military high school, but I wanted to be as true to my surroundings as I could. I did take liberties where necessary, though. The river used on Dedication Day, the waterfall later in the book—all these were built in my mind and used without apology.

I hope that gives you a bit of insight into creating the setting for Rites of Passage—part real, part blended, part made up. That's the beauty of fiction, though!

I hope you enjoy reading the setting as much as I enjoyed creating the setting. The DMA, itself, is very much its own character in the book!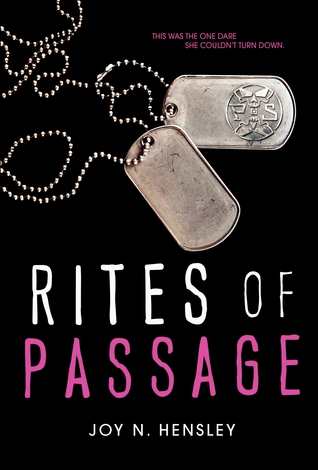 by Joy N. Hensley
Hardcover:
416 pages
Publisher:
HarperTeen
Release Date: September 9th, 2014
Blurb:
Sam McKenna's never turned down a dare. And she's not going to start with the last one her brother gave her before he died.
So Sam joins the first-ever class of girls at the prestigious Denmark Military Academy. She's expecting push-ups and long runs, rope climbing and mud-crawling. As a military brat, she can handle an obstacle course just as well as the boys. She's even expecting the hostility she gets from some of the cadets who don't think girls belong there. What she's not expecting is her fiery attraction to her drill sergeant. But dating is strictly forbidden and Sam won't risk her future, or the dare, on something so petty...no matter how much she wants him.
As Sam struggles to prove herself, she discovers that some of the boys don't just want her gone—they will stop at nothing to drive her out. When their petty threats turn to brutal hazing, bleeding into every corner of her life, she realizes they are not acting alone. A decades-old secret society is alive and active… and determined to force her out.
At any cost.
Now time's running short. Sam must decide who she can trust...and choosing the wrong person could have deadly consequences.
You can purchase
Rites of Passage
at the following Retailers:
Joy N. Hensley is a former middle school teacher. She used to spend her twenty-minute lunch breaks hosting author Skype chats for her students. Once upon a time she went to a military school on a dare. She lives in Virginia with her husband and two children, finding as many ways as she can to never do another push-up again.