Hiya! I'm kicking off the new week with a surprise for all you fans of YA and thriller-mystery. Abigail Haas, author of Dangerous Girls, is releasing her highly anticipated second book on August 14th, and I have the pleasure of sharing some teasers with you!
F
or those who have been anticipating
Dangerous Boys'
release,
I hope these will tide you over until then
!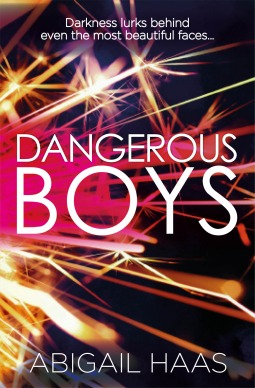 Kindle edition
Publisher:
Simon & Schuster UK
Release Date: August 14th 2014
Three teens venture into the abandoned Monroe estate one night; hours later, only two emerge from the burning wreckage. Chloe drags one Reznick brother to safety, unconscious and bleeding; the other is left to burn, dead in the fire. But which brother survives? And is his death a tragic accident? Desperate self-defense? Or murder?
Chloe is the only one with the answers. As the fire rages, and police and parents demand the truth, she struggles to piece together the story of how they got there-a story of jealousy, twisted passion, and the darkness that lurks behind even the most beautiful of faces…
Dangerous Boys is a taut, compelling thriller balanced on the razor's edge of suspense. I could not put it down, and could not stop grinning wickedly as I raced through the pages." -- Leah Raeder, USA Today bestselling author of Unteachable
"Abigail Hass is a master at her craft! This is a special book and a special author. This is the kind of storytelling and writing that stick with you no matter how much time passes." -- The Book Geek Blog
"As with Dangerous Girls, the closing left me with a huge, admittedly rather twisted smile on my face. I don't know how Haas manages to turn me into such a gleefully evil creature." -- Dahlia Adler, blogger.
"Dangerous Boys was an intense, psychological read which was full of suspense and drama,...Abigail Haas has a way of writing books which reel you in and keep you there, hooked and addicted until the very last page." -- Goodreads.com
Abigail Haas has written two adult novels and four young adult contemporary novels under the name Abby McDonald. Dangerous Girls is her first young adult thriller. She grew up in Sussex, England, and studied Politics, Philosophy & Economics at Oxford University. She lives in Los Angeles.
Do you read YA thriller? If yes, which of you have read Dangerous Girls and are excited for Dangerous Boys?! Is there anyone who, like me, is planning on picking up Dangerous Girls?
Thank you for stopping by and have a great week!