Hey lovelies! For the last July debut author spotlight, we have Stephanie Diaz whose
sci-fi/dystopian novel, Extraction, came out on July 22nd! Find out more about the imaginative world of Extraction and Stephanie Diaz in the interview below.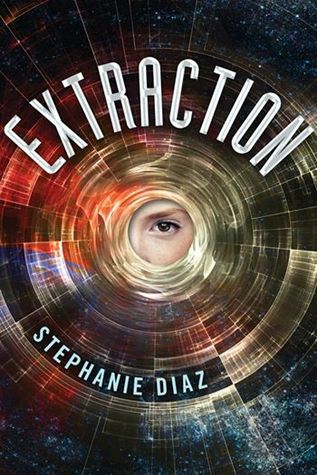 Congratulations on your debut, Stephanie! We love the concept of Extraction and we're sure it took a lot of effort and envisioning to set up the kind of world-building that it demands. What prompted you to write this story and what preparations did you make in order to create it?
Thanks so much! The story all started with a question I asked myself one day: "What would the world be like if the moon were toxic?" From there, I developed the idea of a moon that bleeds deadly acid and constructed a planet for the moon to orbit. I'm more of a pantster than a plotter, so a lot of the world-building happened as I wrote the novel and revised it. But before I wrote the first chapter, I'd developed a basic layout for the world.
Can you introduce us to the world of Extraction? Of the life on Surface and Core?
Extraction takes place on a planet, Kiel, where scientists worked with the government leaders to develop cities underground, all the way into the core of the planet (which is easier to manipulate than the core of Earth). Underground has been turned into something similar to the Death Star. Below the Surface, there are four sectors: Crust, Mantle, Lower, and Core. The Core houses the government leaders and the upper-class citizens. The Surface and the other sectors house the lower-class citizens, who live and die in work camps, fighting for a rare chance of escape when they take the Extraction test at age sixteen. Only the ten strongest, intelligent, and obedient girls and boys are Extracted from each sector every year, and given a shot at a better life in the Core.


How long did it take you to write Extraction?
The first draft took about a month and a half. Revisions happened over the course of the next year and a half, first on my own, then with my agent, then with my editor.
Clementine sounds like a determined and independent heroine. Can you tell us a bit about her character? How did you develop her?
I wanted the heroine of Extraction to be clever, strong, and fearless, but also flawed and human, in the same vein as Hermione, Katniss, and other kick-ass heroines. Clementine is incredibly brave and she'll fight for those she cares about until the end. But she can also be stubborn, untrusting, and reckless in certain situations. She has to learn how to accept help from others, and also how to care more for her own safety.
Rebellion, the second book in the trilogy, releases next year. Are you still writing or editing it at the moment? Can you share a little bit about it?
I am largely finished with Rebellion, as it has moved onto the copy-editing stage. But I will get another couple chances to re-read it and make small changes.
JJ Abrams.
Photo by David Shankbone
We learned that you were a film major and now a writer. What's your favorite film based on a book? And who are your dream cast and director for Extraction?
Recently, I was quite pleased with the film adaptation of Catching Fire. If Extraction were made into a movie, I would love for J.J. Abrams to take the helm as director. I'd cast Annalise Basso as Clementine, Brenton Thwaites as Logan, Colton Haynes as Beechy, Dane Dehaan as Sam, Elle Fanning as Ariadne, Asa Butterfield as Oliver, Rooney Mara as Sandy, and Bill Nighy as Commander Charlie.
What are the most surprising things about publishing and being an author since your first book deal?
Honestly, the most surprising thing was something that should've been pretty obvious from the start: getting a book deal doesn't solve all your problems. (It doesn't make you stop being awkward around boys, for example.) It definitely doesn't make writing any easier -- in fact it makes it harder. You suddenly feel like you're in the spotlight every time you sit down to write, instead of in a special place all by yourself. Landing a book deal is the start of a journey filled with struggles, not a perfect ending. But seeing your book on a shelf and hearing from readers who loved it? That makes everything worth it. :-)
Who and what are your literary inspirations? Did any of them influence the way you wrote your debut?
J.K. Rowling has been a huge inspiration, since I grew up with Harry Potter. She inspired me to persevere when it came to publishing. John Green is another inspiration, since he's an awesome person as well as a writer. As far as directly inspiring the way I wrote Extraction, the only real literary inspiration was Suzanne Collins, since reading Hunger Games is what made me re-fall in love with the sci-fi/dystopian genre (The Giver first opened that door).
What's the best piece of advice can you give to aspiring authors?
Read broadly and write books like you need to do it to keep breathing.
What books are on top of your TBR at the moment?
I'm in the middle of This Shattered World by Amie Kaufman & Meagan Spooner. I have Starglass by Phoebe North and Thirteen Reasons Why by Jay Asher waiting for me at the library, so those will be next.


What do you do when you're not writing or reading?
I'm a bit of a TV show and movie-holic, so I spend a lot of time watching Netflix. I also go on spontaneous adventures with friends.
Can you share some random things about you that people may be surprised to know?
I enjoy singing, songwriting, and playing guitar. I actually recorded and produced a CD of original music back in high school. A couple of the tracks are on the internet. Maybe. :-)
It was great having you, Stephanie! Thank you so much for visiting us here at Teen Readers' Diary. :)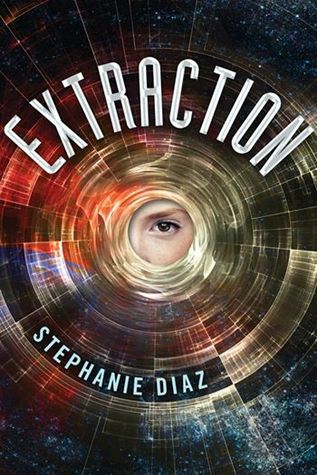 Hardcover:
416 pages
Publisher:
St. Martin's Griffin
Release Date: July 22nd 2014
Blurb:
"Welcome to Extraction testing."
Clementine has spent her whole life preparing for her sixteenth birthday, when she'll be tested for Extraction in the hopes of being sent from the planet Kiel's toxic Surface to the much safer Core, where people live without fear or starvation. When she proves promising enough to be "Extracted," she must leave without Logan, the boy she loves. Torn apart from her only sense of family, Clem promises to come back and save him from brutal Surface life.
What she finds initially in the Core is a utopia compared to the Surface—it's free of hard labor, gun-wielding officials, and the moon's lethal acid. But life is anything but safe, and Clementine learns that the planet's leaders are planning to exterminate Surface dwellers—and that means Logan, too.
Trapped by the steel walls of the underground and the lies that keep her safe, Clementine must find a way to escape and rescue Logan and the rest of the planet. But the planet leaders don't want her running—they want her subdued.
With intense action scenes and a cast of unforgettable characters,
Extraction
is a page-turning, gripping read, sure to entertain lovers of
Hunger Games
and
Ender's Game
and leave them breathless for more.
You can purchase
Extraction
at the following Retailers:
Twenty-one-year-old Stephanie Diaz wrote her debut novel, Extraction, when she should've been making short films and listening to class lectures at San Diego State University. When she isn't lost in books, she can be found singing, marveling at the night sky, or fan-girling over TV shows.