Here's a little tidbit about us, we absolutely love fantasy as much as we do Contemporary. We may not review them often here on the blog but our shelves are lined with a lot of amazing books in the genre. The three of us are also always on the lookout for new Fantasy series to delve into, and Sandra Waugh's debut novel,
Lark Rising,
was an automatic addition to our anticipated-titles list.
Today, we are so excited and honored to have Sandra on the blog to kick off this month's debut feature AND present to you one thing that you won't be seeing on the finish copy of her debut. Read on for Sandra Waugh's exclusive reveal of the original prologue to Lark Rising below!
The weeks leading to a book's launch are riddled with blog posts, interviews, giveaways, and all sorts of lovely attention. (And, in the case of reviews, mostly lovely attention!) Like every author, I am very grateful for the interest! But I imagine that if anyone reads again that I MUST have a cup of hot tea on the table when I sit down to write, then I've answered that question far too many times already.

So I thought that I would share instead a short bit that was left 'on the cutting room floor', shall we say, before the story went on submission. Only a few people have read this before today, though I was quite partial to it. I'm very glad it gets to be read! It highlights a crucial moment of something that happens before the actual story begins.

Without further ado, I offer you the original prologue to LARK RISING:
No explosion. No shattering of walls; no blinding light. No clash of sword and last gasp of strength. This was but a touch of wine to lips—
Screams began then, shuddering sounds of horror and despair. A hall full of people now frantically swarming—noise and color muddling into a mass, converging to aid, to assist, to share the burden of tragedy—all of them… all but two.
He was frozen with shock, hardly breathing, eyes searching the empty place at the table. And she—she was there still, briefly. The stranger he'd invited. No longer sitting as she had moments ago in sweet-faced pretense, but standing just back a little in the shadows where the candlelight ceased. She was smiling at him. Strange—he'd thought her smile exquisite. Now it gleamed and widened in display of sickening emptiness and chasm-like depth. Thief that she was, she melted into the dark, though the smile hung gaping black long after she disappeared, mocking his pathetic heartbreak, this terrible mistake. And he stared, unable to move, to help, to stop the inevitable. Even when the king returned to the hall with sober step and drawn face to say, "The amulets are taken. The Balance is disturbed." Even when those remaining lifted tear-stained faces to murmur then in a single, hopeful chant, "The Guardians, the Guardians, the Guardians…" he could not move.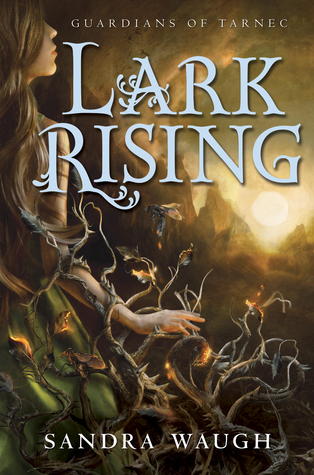 Lark Rising
by Sandra Waugh
Paperback:
384 pages
Publisher:
Random House
Release Date: September 23rd, 2014
Blurb:
Full of romance and nature magic, this debut fantasy is perfect for fans of Shannon Hale, Juliet Marillier, and Kristin Cashore.
Lark has foreseen two things—she will fall for a young man with sage green eyes,and he will kill her.
Sixteen-year-old Lark Carew is happiest close to home, tending her garden and gathering herbs for medicines. But when her Sight warns her that monsters called Troths will soon invade her village, Lark is summoned on a journey to seek help from the legendary Riders of Tarnec. Little does she suspect that one of the Riders, Gharain, is the very man who has haunted her visions. Or that the people of Tarnec have called her there for another reason: Lark is the Guardian of Life, the first of four Guardians who must awaken their powers to recover four stolen amulets. Together, the amulets—Life, Death, Dark, and Light—keep the world in Balance. To take back the Life amulet, Lark will have to discover her true inner strength and give in to a love that she swears will be her downfall.
You can purchase
Lark Rising
at the following Retailers:
Sandra grew up in an old house full of crowded bookshelves, in walking distance of an old library that allowed her to drag home a sack of six books at a time. It goes without saying, then, that she fell in love with the old house in Litchfield County, CT, because of its many bookshelves, and she lives there now with her husband, two sons, and a dog who snores. Loudly.

LARK RISING is her first novel and the first in the GUARDIANS OF TARNEC series. SILVER EVE follows in 2015.
Follow her on these sites
What do you guys think of Lark Rising? Which of you are counting down the days 'til it comes out on September 23rd? I hope the prologue made you as excited as we are to read it! And before you head out, d
on't forget to enter
this fabulous giveaway for one of our readers courtesy of Sandra herself :)
One reader will win a SIGNED hardcopy of Lark Rising by Sandra Waugh + postcard & bookmark
Must be at least 13 years old to enter