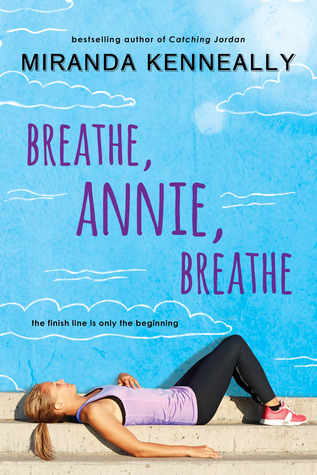 Publisher:
Sourcebooks Fire
Blurb:
Annie hates running. No matter how far she jogs, she can't escape the guilt that if she hadn't broken up with Kyle, he might still be alive. So to honor his memory, she starts preparing for the marathon he intended to race.
But the training is even more grueling than Annie could have imagined. Despite her coaching, she's at war with her body, her mind—and her heart. With every mile that athletic Jeremiah cheers her on, she grows more conflicted. She wants to run into his arms…and sprint in the opposite direction. For Annie, opening up to love again may be even more of a challenge than crossing the finish line.
"Breathe, Annie, Breathe is an emotional, heartfelt, and beautiful story about finding yourself after loss and learning to love. It gave me so many feels. Her best book yet." — Jennifer Armentrout, New York Times bestselling author of Wait for You
This is only my second Miranda Kenneally book after reading Catching Jordan a few years ago and I'm berating myself for taking too long to follow it up. I adored her debut and promised to keep track of her new releases, but school happened and I'm a forgetful person. But better late than never, right? Going into
Breathe, Annie, Breathe,
I have a slight idea of what I can expect from it but I'm also hoping to be taken by surprise. In the end, this book delivered everything I loved in this genre and will go down as my favorite Miranda Kenneally book by far.
And what a poignant yet uplifting contemporary this was! It was the type of story I needed: something to fully lose myself in and that in the end, will make me feel light and happy. While Breathe, Annie, Breathe satisfied those expectations, it is also not quite what I expected because there's more to this book than fluff and feel-good; it's can also be a little dark, very emotional and beautiful.
I absolutely loved how driven and determined Annie is. I first admired her character for stepping out of her comfort zone by committing to join the Music City Marathon.
The book opened with her at the early stages of marathon training. It's not a secret that she's doing it on behalf of her deceased boyfriend, Kyle, who had always dreamed of running a marathon. What people around her doesn't know is that it is also to distract herself from thinking about him. To be honest,
I was more conflicted and impatient at first with the mystery that surrounds Kyle's death but I soon realized that it's one of the things that made this book stand out. Kyle became a fleshed-out character through Annie's memory and we see a glimpse of their relationship throughout the book. It was so easy to feel for Annie's hurt and love for him. I can only imagine the heartbreak she was going through while harboring guilt over his death, and my respect for her grows with every step she took to honor him.
The story progressed with Annie running the distances required to train for a marathon and I was hit with another dose of hard reality as I witnessed how grueling and physically taxing training could be.
And the romance? One of the most convincing I've read in quite a while! I love Jeremy and his growth arc with Annie. He has easily won me over with his charm and distinct personality. He's a complex and imperfect character; into extreme sports and an adrenaline junkie. That said, I understand where he's coming from and the reason why he'
s always chasing the next thrill.
"If you don't put yourself out there, if you don't take risks, you can't truly feel.
And I'm ready to feel again"
I enjoyed the sweet, slow-burn romance between him and Annie that only deepened with time. It ultimately became a part of Annie's emotional healing and acceptance,
and of her letting another person in.
I can't think of anything I didn't like about this book. How can I when I was so completely immersed from the first page? I adored the characters, the fast-paced writing, and the story that is heartbreaking and heartwarming at the same time.
P.S. I think it's time to binge on Miranda Kennelly's other books in Hundred Oaks series!
Growing up in Tennessee, Miranda Kenneally dreamed of becoming an Atlanta Brave, a country singer (cliché!), or a UN interpreter. Instead she writes, and works for the State Department in Washington, D.C., where George W. Bush once used her shoulder as an armrest. Miranda loves Twitter, Star Trek and her husband.