Hello guys! Today we have Emily Adrian on the blog to celebrate and promote her debut novel, Like It Never Happened. I love contemporary books and since the summer is rife with and known for them, I asked Emily to list her favorite summer reads! I hope you guys check them out and add some titles, including Like It Never Happened, to your tbr list!
The Vast Fields of Ordinary
by Nick Burd
This is one of those dreamy, intoxicating stories about high school ending, and the future looming. About falling in love, but for real this time. About new friends, and crummy jobs, and surreal suburban nights. I've read this book a few times, and I'm always disappointed when it ends. It's like summer itself, in that respect.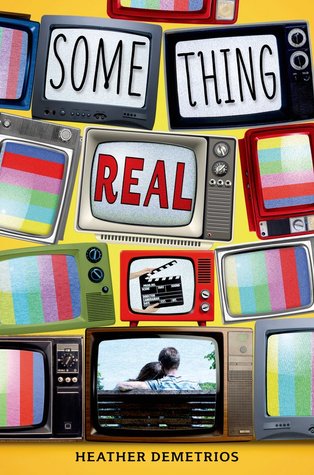 Something Real is about a girl who has, against her will, been raised on a reality television show. The book is a lot of fun. You'll want to read it in one sitting. But Something Real is also unflinching in its portrayal of the entertainment industry, and of our culture's tendency to dehumanize celebrities. It's hard for me to think of another book that combines such an appealing premise with such a thoughtful execution.










Levy's debut novel follows two ex-best friends reconnecting and falling in love as their senior year of high school comes to an end. It's not an easy read—if you take it to the beach, wear sunglasses large enough to conceal your tears—but it's a book about learning that your past does not have to determine your future. It's the perfect end-of-summer read, especially if you're looking forward to big changes in the fall.
A Tale for the Time Being
by Ruth Ozeki
Ruth Ozeki is not a YA author, but if she was, I'm pretty sure she'd be one of the best. A Tale For The Time Being has two narrators, one of whom is a Japanese American teenager named Nao Yasutani. Nao's voice is pitch-perfect, hilarious, and kind of addicting. This book is long, and you won't be able to put it down, which makes it perfect for endless summer days.











Dept. of Speculation
by Jenny Offill
I read this book on the first warm day of 2015—which, in Toronto, doesn't come until May. And then I read it again last week, now that the summer is winding down. Dept. Of Speculation is about the tiny things that chip away at your heart and your sanity until everything breaks. But it's also about love, and writing, and making choices. It's a weird book, too, composed of disjointed fragments that don't make sense until suddenly they do. One of my all-time favorites.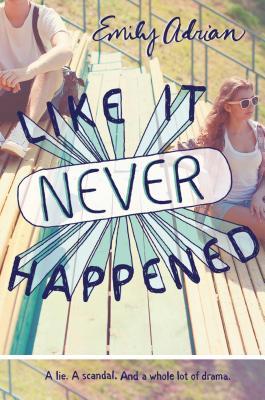 Like It Never Happened
by Emily Adrian
Release Date: June 2nd, 2015
Blurb:
Stereotypes, sexuality, and destructive rumors collide in this smart YA novel for fans of Sara Zarr's Story of a Girl, Siobhan Vivian's The List, and E. Lockhart's The Disreputable History of Frankie Landau-Banks.

When Rebecca Rivers lands the lead in her school's production of The Crucible, she gets to change roles in real life, too. She casts off her old reputation, grows close with her four rowdy cast-mates, and kisses the extremely handsome Charlie Lamb onstage. Even Mr. McFadden, the play's critical director, can find no fault with Rebecca.

Though "The Essential Five" vow never to date each other, Rebecca can't help her feelings for Charlie, leaving her both conflicted and lovestruck. But the on and off-stage drama of the cast is eclipsed by a life-altering accusation that threatens to destroy everything…even if some of it is just make believe.
Emily Adrian was born in 1989 in the suburbs of Portland, Oregon. After graduating from Portland State University, she moved to Toronto, Ontario, where she worked as a receptionist while secretly writing books.

Emily currently lives in Toronto with her husband and their dog named Hank. Like It Never Happened is her debut novel.