Hi everyone! I know it's been long since we've posted here in our blog and we kind of neglected it for weeks but no need to fret because we are back! I have with me today Jennifer Echols, author of Major Crush and Going Too Far, which we are a huge fan since we even started blogging. I had the opportunity to ask her a few questions for the blog tour of her upcoming book Most Likely To Succeed, so don't forget to check that out below and a giveaway!
Hi Jennifer! Can you tell us a bit about yourself?
I write novels for a couple of hours a day, and the rest of my time is taken up copy editing other authors' novels, which is lots of fun! As far as I'm concerned, I have the best and the second-best jobs in the world. I love the Alabama heat, and I get to do a lot of my work outside on my screened porch. Some people say there's no such thing as luck—you make your own luck—and I did work very hard to snag these jobs. But I still feel very lucky.
We here at Teen Readers' Diary are a huge fan of yours even before we started blogging and your books have been one of our YA foundations. Can you tell us what sets this story apart from the other books you've written?
Hey, that is very kind of you—thanks so much! I've never written a YA series before featuring a different couple in every book. This has been a dream of mine and something I've been working toward and fighting for for a while. Most Likely to Succeed is the third book in the Superlatives series, starting and ending with Sawyer and Kaye's romance but also ending Sawyer's character growth from the beginning of the series to the end. I think readers who have enjoyed the first two books in the series will find the last one really satisfying.
What are the most surprising things about publishing and being an author since your first book deal?
Self-publishing has been the huge change I did not foresee when I first sold a book to Simon & Schuster in 2005. I'd tried to get a book published for 15 years before that. It was a really slow and soul-crushing process. Self-publishing has leveled the playing field, taking a lot of power away from literary agents and publishers and giving it to authors for the first time. I'm not sure where things are going to stabilize, but I do know authors who can't adapt to this changing publishing world are going to be left by the side of the road, no matter how long and hard they struggled before. The publishing industry has no memory.
Can you share some random things about you that people may be surprised to know?
I have a very pronounced Southern accent and regularly get made fun of for the way I talk at writers' conferences. People who have made fun of me include my own former editor at Simon & Schuster and a literary agent from ATLANTA. If you sound really Southern to someone from Atlanta you start to second-guess yourself...
But I recently took a trip where nobody made fun of my accent because nobody knew what I was saying anyway. My husband was born in Thailand, but he left when he was two years old. In June we went back to meet his many relatives who still live there. I could fill a book with the crazy experiences we had, but the coolest thing for me was talking to his cousins in English, and listening to them in Thai (which I don't speak at all), and realizing that we understood each other a lot better than I'd thought we would.
What's the best piece of advice can you give to aspiring authors?
Write the book you want to read!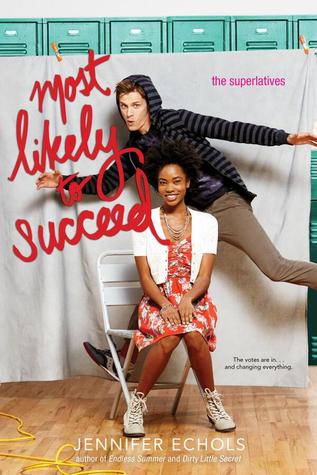 Most Likely to Succeed (Superlatives #3)
by Jennifer Echols
Publisher: Simon Pulse
Release Date: August 4th 2015
Genre: Young Adult, Contemporary, Romance, Realistic Fiction
In this sexy conclusion to The Superlatives trilogy from Endless Summer author Jennifer Echols, Sawyer and Kaye might just be perfect for each other—if only they could admit it.
As vice president of Student Council, Kaye knows the importance of keeping order. Not only in school, but in her personal life. Which is why she and her boyfriend, Aidan, already have their lives mapped out: attend Columbia University together, pursue banking careers, and eventually get married. Everything Kaye has accomplished in high school—student government, cheerleading, stellar grades—has been in preparation for that future.
To his entire class, Sawyer is an irreverent bad boy. His antics on the field as school mascot and his love of partying have earned him total slacker status. But while he and Kaye appear to be opposites on every level, fate—and their friends—keep conspiring to throw them together. Perhaps the seniors see the simmering attraction Kaye and Sawyer are unwilling to acknowledge to themselves…
As the year unfolds, Kaye begins to realize her ideal life is not what she thought. And Sawyer decides it's finally time to let down the facade and show everyone who he really is. Is a relationship between them most likely to succeed—or will it be their favorite mistake?
Jennifer Echols was born in Atlanta and grew up in a small town on a beautiful lake in Alabama—a setting that has inspired many of her books. She has written nine romantic novels for young adults, including the comedy MAJOR CRUSH, which won the National Readers' Choice Award, and the drama GOING TOO FAR, which was a finalist in the RITA, the National Readers' Choice Award, and the Book Buyer's Best, and was nominated by the American Library Association as a Best Book for Young Adults. Simon & Schuster will debut her adult romance novels in 2013, with many more teen novels scheduled for the next few years. She lives in Birmingham with her husband and her son.
US Only
If the winner has one of the Superlatives book, he/she can choose another book instead written by Jennifer Echols.