How is everyone's day?! We hope you're beating the Monday blues and the week has been starting off well for all of you. Anyway, we're back after a few days break
(I, Dea, survived the most stressful first week back to school, Mary Ann is doing well with her thesis, and Riz has been doing a great job at school. Thank you for asking)
by welcoming another August debut author! All three of us are HUGE contemporary readers and music lovers, so we're excited to have Sandy Hall, author of A Little Something Different, to share the songs which influence ALSD the most.
Bleecker & 6th is the ultimate Gabe & Lea song. It's about a man and a woman who live in the same neighborhood and bump into each other here and there. And then in the end they find themselves sitting on the same bench one afternoon and that's the start of their relationship. There's a part that says "and this story does not have a twist." I always liked that because Gabe and Lea don't have a twist. They just happen.
If all the POV characters sat together in the same room, and tried to select a song to best represent them as a collective, it would be Brave. Because every time they see Gabe and Lea attempting to interact they think "You could be amazing if you would just talk to each other. BE BRAVE!" (Victor and Hillary might disagree but the rest of the group would ignore them.) I always imagine this song playing over the opening montage of this story if it were made into a movie. Lea coming down the street from one direction, and Gabe moseying from another direction, bumping into each other at the entrance to Starbucks. It just really fits in thematically.
I have an image in my head of Gabe hearing this song right around the time he thinks that Lea is dating some other guy. And he listens to the lyrics and they just really speak to him in that moment. He feels sort of embarrassed about just how much they remind him of his situation, because he's Gabe and everything embarrasses him, but he also finds a lot of comfort there. And he tries to convince himself to move on. Of course, that doesn't work.
After the fight at the party, Lea would have gone back to her dorm and listened to this song over and over again until Maribel forced her to go out and get food somewhere besides the dining hall. Maribel would think that Lea was cheered up, but when they get back to their room Lea would put the song on repeat again until Maribel yelled at her to put on some headphones.
This song represents where Gabe and Lea are at the end of the story. There's just reckless abandon within the lyrics of this song and that's how happy Gabe and Lea are by the time things work out for them. They're jumping all over the place and racing to the moon and just really happy. It's the best day of their lives.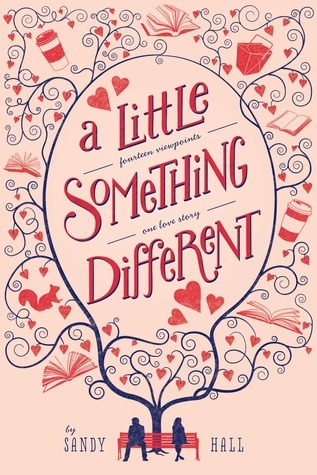 Hardcover:
272 pages
Publisher:
Swoon Reads
Release Date: August 26th 2014
Blurb:
The creative writing teacher, the delivery guy, the local Starbucks baristas, his best friend, her roommate, and the squirrel in the park all have one thing in common—they believe that Gabe and Lea should get together. Lea and Gabe are in the same creative writing class. They get the same pop culture references, order the same Chinese food, and hang out in the same places. Unfortunately, Lea is reserved, Gabe has issues, and despite their initial mutual crush, it looks like they are never going to work things out. But somehow even when nothing is going on,
something
is happening between them, and
everyone
can see it. Their creative writing teacher pushes them together. The baristas at Starbucks watch their relationship like a TV show. Their bus driver tells his wife about them. The waitress at the diner automatically seats them together. Even the squirrel who lives on the college green believes in their relationship.
Surely Gabe and Lea will figure out that they are meant to be together....
You can purchase
A Little Something Different
at the following Retailers:
Sandy Hall is a teen librarian from New Jersey where she was born and raised. She has a BA in Communication and a Master of Library and Information Science from Rutgers University. When she isn't writing, or teen librarian-ing, she enjoys reading, slot machines, marathoning TV shows, and long scrolls through Tumblr. A LITTLE SOMETHING DIFFERENT is her first novel.
Have you listened to any of the songs featured in A Little Something Different's playlist? Are any of you excited to read ALSD? Tell us what you think of the book and playlist, and don't forget to enter the fabulous giveaway sponsored by Sandy herself below!



One winner will win a SIGNED ARC of
A Little Something Different by Sandy Hall
Open to US/Can
Must be at least 13 years old to enter
Ends 9/1