Hi everyone! Today we are welcoming August with another visit from a lovely YA debut author. Some of you may know our guest from her adult Steampunk series called Blud and have been aware that she's breaking into YA fiction this month. But for those who don't, we'd like to introduce Delilah S. Dawson and her upcoming Paranormal novel, Servants of the Storm, which will be released on August 5th! I think I speak for all three of us when I say we're very excited about this new addition to the Paranormal genre. :)
And t
o know more about her, we asked Delilah to share ten things about herself that the literary community has yet to know. We're thrilled that she said yes and wrote this honest-to-goodness guest post for all of us!
For real. I got paid $100 cash to go to kids' birthday parties in character. Sometimes, I was Barney, in the big, sweaty costume. Sometimes, I was Jasmine from Aladdin, although that (too skimpy) costume had a cigarette burn (from someone else) in the leg, and the kids always asked about it, and I always said it was Genie's fault.
I was a straight-A goody-goody, so when I went to Milan for a student exchange trip, I decided I would just play along. The Italian students liked to drink a lot, and it wasn't against the law, so I figured I would try it. Nothing untoward happened; mainly, they asked me to help them talk to the American girls because I was the only one there who was really bilingual. The next day, thoroughly hungover, I got on a bus in Florence and barfed on a priest. I was so embarrassed I jumped off at the next stop and got totally lost.
Maybe the bookish world knows it, but I'm a rape survivor. I dated this guy for a while before the trip, but he was very controlling and volatile, so I dumped him. He called me a goddess, an angel, the perfect girl. When I fell off that pedestal and rebuffed him, he couldn't handle it. He stalked me, once sitting behind me and my date at the movies, which I didn't discover until after the lights went up. He said he wanted to talk privately, and I wanted to be nice, so I went with him. And then he pulled out a knife. That night taught me a lot about trust, about guys who assume they have the right to define girls, about how even when someone thinks they can break me, they can't. To this day, I constantly look behind me when I'm at the movies.
That's "a neurological phenomenon in which stimulation of one sensory or cognitive pathway leads to automatic, involuntary experiences in a second sensory or cognitive pathway." Which means that each letter and number has a permanent color and a feeling to me. Words have colors and sometimes tastes, and I can't memorize a phone number if the number colors don't "go" together. I think that's one reason why I build very deep worlds in my books: I want to taste them, smell them, feel them. The first time I noticed it was in Kindergarten, when we were studying the letter W. The poster on the wall had a yellow W, and I told the teacher that it was wrong, that W was red. She dinged me on my progress report for being rude and talking back. I didn't know it was a real thing until I was a senior in high school; I thought I was just weird.
When I was a little kid, the lady who ran the art center where I took drawing classes said, "When you're 14, I'll hire you." I took her at her word, applied for a work permit, and showed up on my 14th birthday to ask for a job. She gave it to me and became my mentor. My first responsibility? Making her coffee. I worked at that art center all through high school, went back to help out during summer and Christmas holidays during college, and quit my corporate job in 2004 to go back and act as her second in command as she battled cancer. We lost her in 2007, and I miss her every day. My second book is dedicated to her. It was a really great job.
I've swum with sharks, ridden an elephant, and taken flying trapeze lessons
When I was young, I was scared of almost everything, even rides at Epcot. Now, I yearn to try new things that make my heart flutter.
I was a pudgy, introverted, socially awkward kid who didn't fit in. In elementary school, I just liked reading and drawing horses, so kids called me Horse. One kid used to spit on me on the bus. Middle school was hell. High school got better, once I found my tribe in Drama and Odyssey of the Mind. What finally ended the bullying was when the biggest bully in the school demanded a piece of my birthday cake when I turned 17, and I told him no. He said to meet him behind the church after school so we could fight. I told him that would be awesome and that I would be there to kick his ass. He never showed. And he never spoke a word to me again.
My biggest dream as a kid was to have my own horse, and now I do. She's a Tennessee Walker named Polly, and I love going trail riding with her in the mountains.
When I was eighteen, I was depressed for a lot of reasons, some very real and some a bit imaginary, and I made a very foolish choice. Luckily, I lived through it. When I tell you it gets better, I mean it. I would've missed out on so many wonderful things. I would've never realized how happy I could be, how strong I would become. The best things are waiting on the other side of the hill.


I'm on Twitter (@DelilahSDawson) and Tumblr (
www.delilahsdawson.tumblr.com
), which means you can ask me stuff in 140 character bursts on via an anonymous Ask. Whether you want to be a writer, want to know things about my books, or just need to share your story, I love hearing from readers.
Thank you so much for such a candid post, Delilah! Your strength and honesty brings inspiration to the three of us, and I'm sure to the other readers who have read this as well. It was amazing having you here to share these genuine experiences to everyone!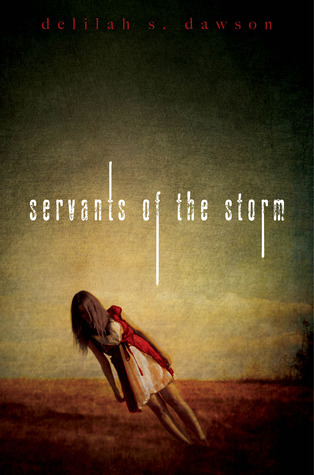 Hardcover:
384 pages
Publisher:
Simon Pulse
Release Date: August 5th 2014
Blurb:
A year ago Hurricane Josephine swept through Savannah, Georgia, leaving behind nothing but death and destruction — and taking the life of Dovey's best friend, Carly. Since that night, Dovey has been in a medicated haze, numb to everything around her.
But recently she's started to believe she's seeing things that can't be real ... including Carly at their favorite cafe. Determined to learn the truth, Dovey stops taking her pills. And the world that opens up to her is unlike anything she could have imagined.
As Dovey slips deeper into the shadowy corners of Savannah — where the dark and horrifying secrets lurk — she learns that the storm that destroyed her city and stole her friend was much more than a force of nature. And now the sinister beings truly responsible are out to finish what they started.
Dovey's running out of time and torn between two paths. Will she trust her childhood friend Baker, who can't see the threatening darkness but promises to never give up on Dovey and Carly? Or will she plot with the sexy stranger, Isaac, who offers all the answers — for a price? Soon Dovey realizes that the danger closing in has little to do with Carly ... and everything to do with Dovey herself.
You can purchase
Servants of the Storm
at the following Retailers:
Delilah S. Dawson is the award-winning author of the Blud series, including Wicked as They Come, Wicked After Midnight, and Wicked as She Wants, winner of the RT Book Reviews Steampunk Book of the Year and May Seal of Excellence for 2013. Her next book is Servants of the Storm, a YA Southern Gothic Horror set in Savannah, GA, followed in 2015 by a pre-dystopian called HIT about teen assassins in a bank-owned America. Delilah is also the author of several short stories, comics, and a playable world in Storium. She lives in the North Georgia mountains with her family, and she's a major geek.
What are you most excited about Servants of the Storm? Any thoughts on Delilah's guest post? Share them in the comments and for those of you in the US and Canada, don't forget to enter the signed giveaway below. Thank you and good luck!
Prize: A SIGNED hardcover copy of Servants of the Storm by Delilah S. Dawson
US/Canada Only
Must be at least 13 years old to enter
Ends 8/15