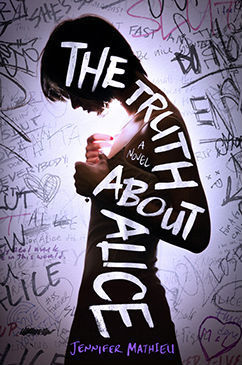 Publisher:
Roaring Book Press
Blurb:
Everyone has a lot to say about Alice Franklin, and it's stopped mattering whether it's true. The rumors started at a party when Alice supposedly had sex with two guys in one night. When school starts everyone almost forgets about Alice until one of those guys, super-popular Brandon, dies in a car wreck that was allegedly all Alice's fault. Now the only friend she has is a boy who may be the only other person who knows the truth, but is too afraid to admit it. Told from the perspectives of popular girl Elaine, football star Josh, former outcast Kelsie, and shy genius Kurt, we see how everyone has a motive to bring – and keep – Alice down.
There are rumors circulating the small town of Healy, Texas involving Alice Franklin: she slept with two guys in one night at the party of the most popular girl in town, and Healy's Golden Boy, Brandon Fitzsimmons, died in a car accident because of her. Everyone knows it. The grandmother of the most uncool guy in Healy High has heard of it. And who will ever doubt it's true when even Alice's best friend, Kelsie, has already been swept along by rumor mill and abandoned her?
The Truth About Alice reminds me why I'm hesitant to dive into books with sensitive issues and why I end up reading them anyway. I can be a touchy person and reading about bullying has this ability to transform my feelings into a deep emotional state. I never experienced the kind of bullying the characters I read about go through nor was I ever a subject of derision and rumors and hate or intense blame, but I'm not impervious to the problem's full extent. This book reminds me how powerful and damaging lies words can be, and how important that everyone remembers that fact.
What sets this apart is Jennifer Mathieu's refreshing route to tell the story. It's told in point-of-views of four persons who each has his/her own motives which involves Alice. I won't go much into a further explanation of who they are, but when we interviewed Jennifer Mathieu back in June, I asked her to describe the characters in a single word and she thoughtfully provided them. She answered that Alice is a survivor, Brandon is entitled, Josh is repressed, Elaine is a queen, Kelsie is damaged, and Kurt is compassionate. These words perfectly typify each character.
While I did like this book, entertain/adore/enjoy are not the right words it inspired while I was reading it (I know that was intended effect).
Absorbed
is more of an appropriate word because I was riveted by every emotion each character's perspective incite in me; I can't find it in my bone to like Elaine or Josh, my hate for Kelsie grew tenfold with each bad decision, and Kurt's endearing perspective is about the only one I was looking forward to.
I value this story for what it is and I understand the point it aspires to make but there are also issues that I couldn't overlook. For one, I didn't get confused with the switching of POV's but the indistinct perspectives bothered me at the beginning. I did get used to it and they became more discernible with time, but I wish each voice is more different and unique from each other. Aside from that, I was a little disappointed with Alice's character. I was hoping to get a glimpse of the confident and self-assured Alice that she was in the past but sadly, that part of her appeared to be already stripped away.
That said, I appreciate that the story isn't wrapped up neatly in a pretty little bow because it aims to represent reality the best way it can. I believe Jennifer Mathieu has written a kind of tale that readers (and not just this generation) can identify with.
I'm an English teacher, writer, wife, and mom who writes books for and about young adults. My debut novel, THE TRUTH ABOUT ALICE, will be out in the spring of 2014.

My favorite things include chocolate, pepperoni pizza, and this super hilarious 1980s sitcom about four retired women called The Golden Girls. I can basically quote every episode.

I live with my husband, son, one rescue dog, one fat cat, and another cat that is even fatter than the fat cat.

When it comes to what I read, I love realistic young adult fiction (duh), creative nonfiction, super scandalous tell-all memoirs and unauthorized biographies, and basically anything that hooks me on the first page.